ZenOnco.io is the world's first integrative oncology healthtech platform, created with the vision to save millions of lives from cancer.
South Asia and Central Asia
India
Behind every cancer statistic is a real person
Cancer is one of the top three causes of death worldwide, claiming 10 million lives in 2020 (source: Globocan 2020 fact sheet). The enormity of this number can make it difficult to remember that each of those millions was an individual who received a diagnosis and whose death shook their loved ones' worlds.
Dimple Parmar was one of those loved ones. Her life changed forever in 2016 when the man who would become her husband was diagnosed with cancer. Their friendship, begun at business school, strengthened after Nitesh's cancer diagnosis. They fell in love, got engaged, and put their startup plans on hold to focus on his treatment. The shared journey brought them closer. They were optimistic about his recovery, but despite treatment, Nitesh died in 2018.
"When you go through such a deep experience, you definitely don't want to go back to the corporate world," Dimple says. She transformed her devastation into the non-profit Love Heals Cancer to guide patients and families along the treatment path she and Nitesh had negotiated.
Even with access to the best networks of people and resources, the couple had struggled to find care to complement his medical treatment. "India's doctor/patient ratio of one oncologist for every 2,000 patients means that doctors definitely don't have time to go through all the research," Dimple says. "But every doctor we surveyed said that if they got diagnosed with cancer, they would explore their own choices around healing."
When my husband passed away from cancer, I saw a very clear path for myself. I wanted to dedicate my life to supporting others in their cancer journey. When you really want to do something, the universe comes and supports you.
Integrative oncology gives patients and families hope
Love Heals Cancer counsels patients, caregivers, and families—including those who can't afford mainstream therapies—on science-based integrative oncology therapies and holistic healing, and connects them with support. It conducts workshops to spread awareness about prevention, early detection, and treatment, working alongside doctors and scientists so patients have a complete range of care options.
The company began with a physical location in Mumbai and took the next step in its evolution in 2019, when investment banker Kishan Shah began volunteering there. He observed that while one-on-one counseling could alleviate suffering for individual families, the model did not match the scale of the problem.
"We agreed that we needed to create something scalable, so we can help many more people in a sustainable way," Dimple says. "We started ZenOnco.io to extend our reach, providing a wellness framework that guides patients on important contributors to health." The integrative oncology healthcare technology platform provides end-to-end care to cancer patients regarding both medical and complementary treatments (e.g, anti-cancer diets, medical cannabis, and emotional counseling) to improve their quality of life and increase chances of cure.
Zen means peace. It's a Buddhist word. Oncology is everywhere, and you don't want to hear that word, so we used onco. And IO stands for integrative oncology because we believe in combining medical and complementary treatment.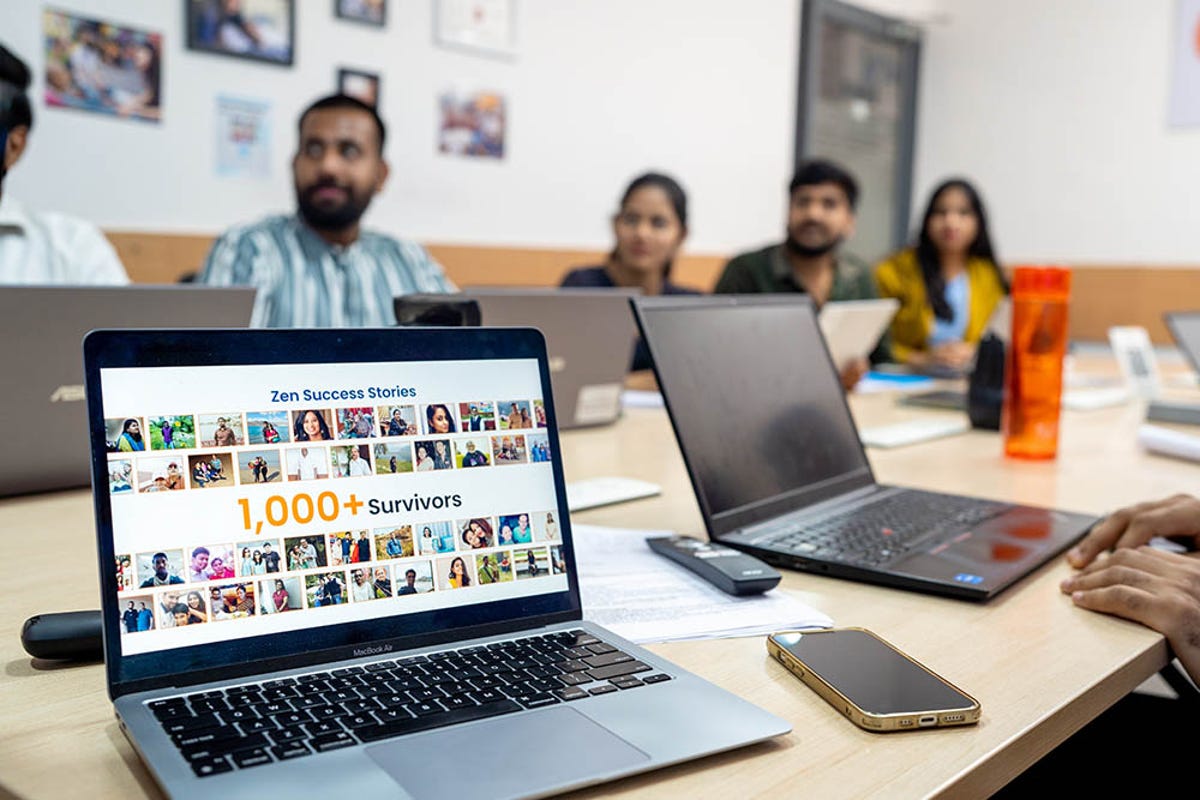 ZenOnco.io imagines a world without cancer deaths
ZenOnco.io now collaborates with oncologists, hospitals, labs, and pharma companies across India to provide guidance to patients virtually. "So far, we have catered to more than 50,000 cancer patients," Dimple says. "Our community of 10,000 patients, survivors, caregivers, and doctors are there to support, guide, and learn from each other's experiences. We have hosted 500 weekly healing circle sessions."
The company plans to work next on life-saving early detection approaches. Cancer diagnosis at stage three or four means survival chances of less than 10 percent, while early diagnosis (first or second stage) increases chances to more than 80 percent.
Until the day when Dimple's dream that nobody dies of cancer becomes a reality, ZenOnco.io will be there supporting millions of individual patients and families.
It's my dream that nobody dies from cancer. And if somebody gets diagnosed, they see it as another disease like diabetes or hypertension—diseases that are manageable, and not nearly as frightening as cancer.