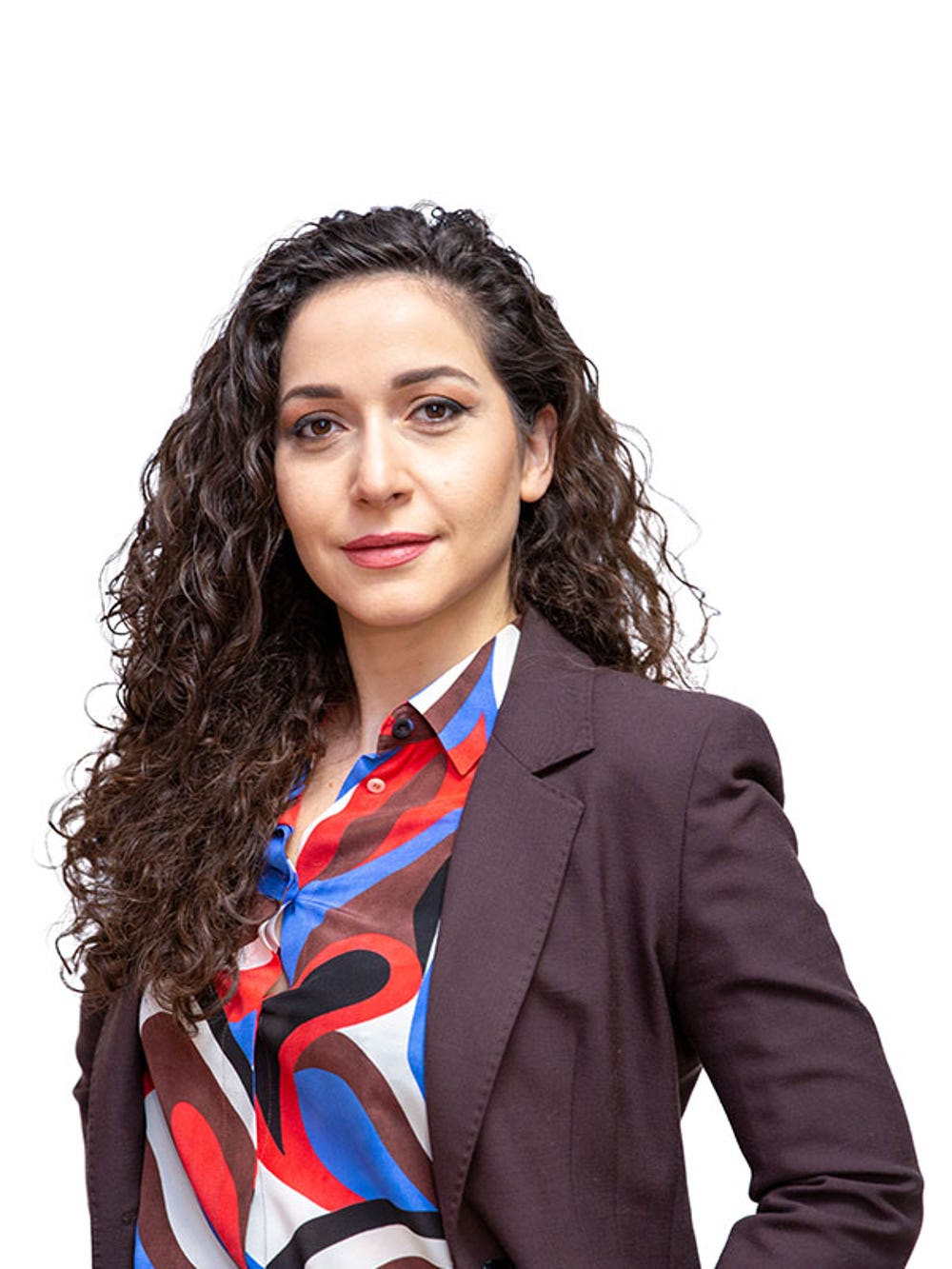 The Safe YOU mobile application is a safe virtual space where women suffering gender-based violence can find immediate help, professional resources, and community support.
Gender-based violence is an ongoing pandemic
Global crises affect women and girls disproportionately and the COVID-19 pandemic worsened an existing pandemic of gender-based violence (GBV) that sees partners or family members kill 137 women every day. Beyond the tragedy of human lives lost, the estimated annual economic costs of USD$1.5 trillion amounts to between two and four percent of global GDP—dollars sunk into hospital stays, law enforcement, and lost wages (source: World Bank). And because only 13 percent of countries collect data on GBV as it occurs, the numbers do not reflect real-time occurrences of these tragic incidents.
In 2018, Mariam Torosyan was conducting World-Bank-funded research into innovations that address GBV. Her background in law, data science, and human rights set the stage and a personal experience sparked her passion. She had been pregnant with her daughter when an elderly woman approached her at a family gathering. "Don't worry," the woman said, "the second child will be a boy."
Mariam decided to focus on enhancing the status and role of girls and women in patriarchal societies like hers that undervalue girls even before birth. Addressing GBV has since become her life's mission.
Sexual and physical violence is a pandemic. Every third woman worldwide has experienced some form of it. And it's a big problem for public health.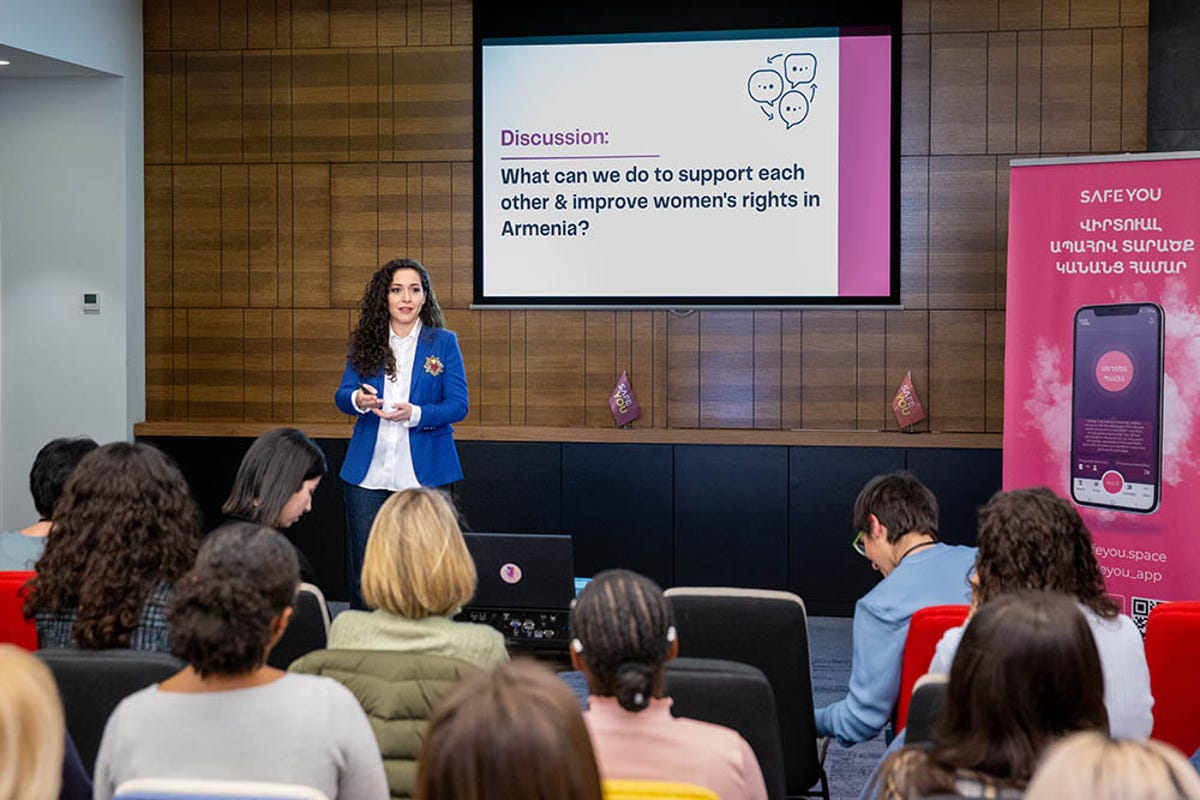 Women suffering violence need a safe space
She visited many women's shelters and concluded that women in danger of GBV need a virtual safe space to come together and discuss their situation. She envisioned a place of solidarity and a resource hub to address immediate safety issues. "It would be a perfect place where a woman would feel she is never alone," Mariam says.
In 2020, she worked with IT professionals and GBV experts to establish Impact Innovations Institute (IMIN), a social enterprise with the purpose of tackling social issues through innovation, and launched the Safe YOU app as IMIN's first product. Women and girls use the app to get emergency help in violent situations, as well as free medical, legal, and social and community support through peer-to-peer discussion. Audio recordings of incidents made through the app can be used in followup legal action. A Safe YOU Web platform gives organizational users like governments and NGOs access to real-time statistics based on anonymized data and the ability to track cases of GBV. Together, the app and platform provide all stakeholders with resources and data they need to prevent and mitigate violence against women.
The whole idea is constructed on ending gender-based violence as the first obstacle to gender equality. But from a bigger perspective it's about women's empowerment.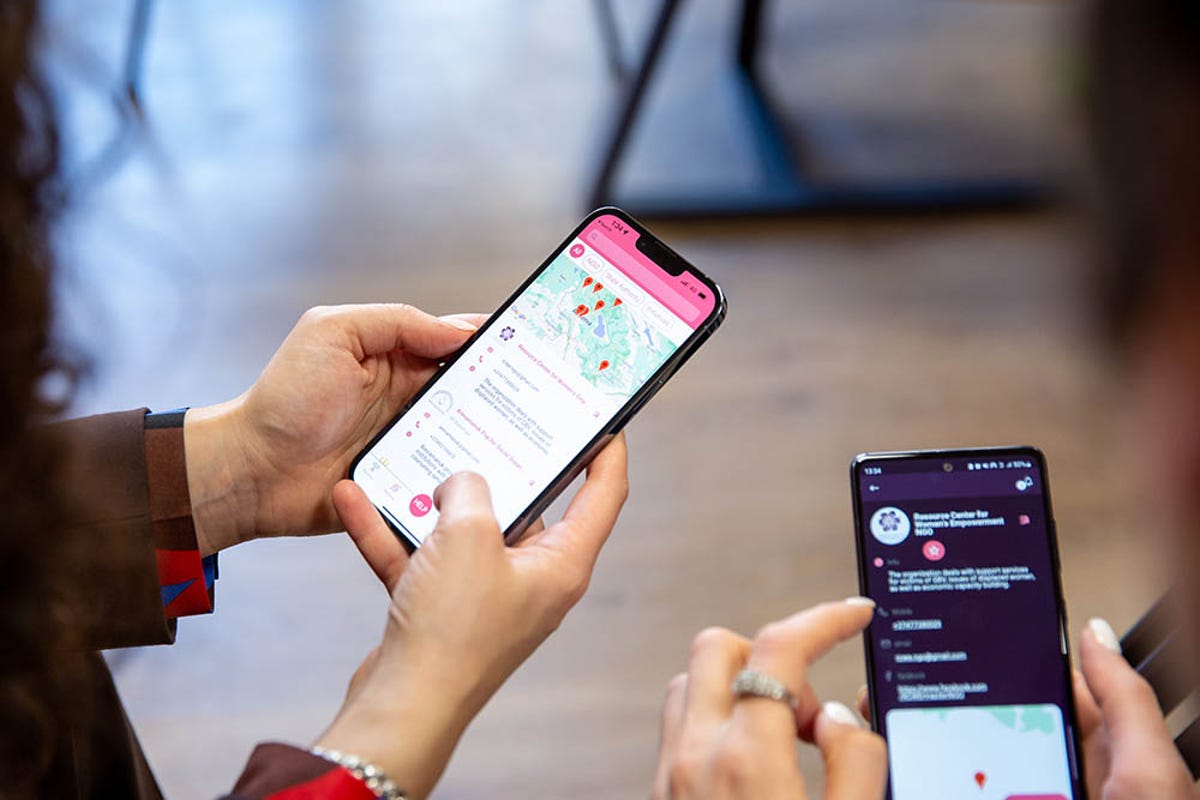 The dream goal is to shut down the app
Since its introduction, the Safe YOU app has facilitated more than 8,000 consultations for 28,000 users in Armenia, Georgia, and Iraq, with several publicly reported instances in which the app saved women's lives. "I'm really proud of all these initiatives. Yes, we prioritize safety," Mariam says. "But it's important also to work on a policy level because we can't solve the problem on an individual level."
As part of its long-term commitment to contribute to gender equality, IMIN has established partnerships with the United Nations Population Fund (UNFPA), UNICEF, and the United Nations Development Programme (UNDP) and is working with other international stakeholders to expand to the Middle East, Africa, Europe, Scandinavia, post-Soviet countries, and the United States.
By 2030, Mariam would like Safe YOU and IMINto have a presence in at least 30 countries and to be impacting 100 million lives. "That would be a dream, but also a realistic goal if we continue our exponential growth in the countries we are targeting," she says. The ultimate dream, however, would be "to come to work one day and say 'let's turn everything off. We don't need this app anymore. This would be the best day that we can imagine—to make sure that women don't need us anymore, anywhere."
We already have seen many lives saved thanks to Safe YOU. But also we are looking deeply at how this can be prevented so that others never encounter violence in their lives.