DR. ANINO EMUWA
Managing Director, Avandis Consulting, Founder, 100 Women@Davos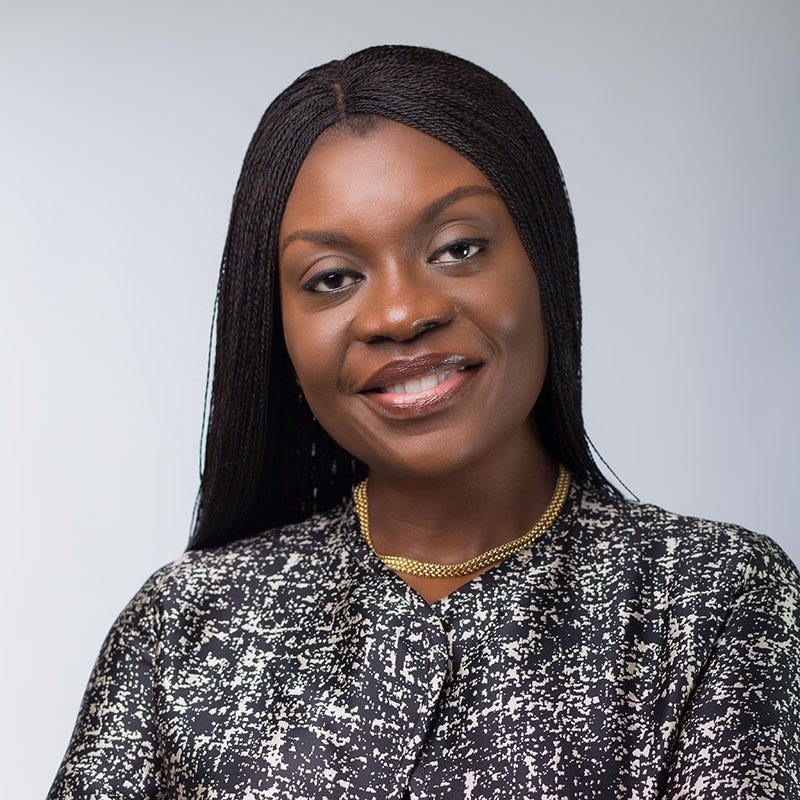 Anglophone & Lusophone Africa
DR. ANINO EMUWA
Dr. Anino Emuwa is the Managing Director of Avandis Consulting, France. A former corporate banker with Citibank, she is an experienced Non-Executive Director with extensive corporate governance experience. She sits on the board of several organizations including Nottingham Trent University, U.K, and chairs a Y Combinator-backed tech start-up.
Anino works to accelerate gender diversity in leadership. She is the founder of 100 Women@Davos, a community of impact-focused women leaders founded alongside the World Economic Forum and the Africa Women CEOs Network with over five hundred CEO and founders across the continent. Recognized for her thought leadership in the field of gender equality, she is a member of the Institute of Directors' Expert Advisory Group on Diversity and Inclusion. Her work on leadership focuses on the corporate world, entrepreneurship, emerging technologies, and sustainability.
Dr. Emuwa is the recipient of several international awards including Women In Fintech, Women in Tech Ally, and the Top 50 Women in Management Africa Award. She has been invited to speak at prestigious institutions and conferences including Forbes, Facebook, ING, Reykjavik Forum for Women Global Leaders, Web Summit, University of Cambridge, Horasis, and at the French National Assembly and at Davos. Her articles have been in international publications including Forbes, Entrepreneur, and Global Banking and Finance Review.
Her organization is a UN Women Generation Equality Action Coalitions Commitment Maker on leadership and regularly hosts events alongside gatherings of world leaders in Davos and the UN General Assembly. These sessions bring together global leaders and experts to discuss solutions and propose plans targeted at achieving gender equality in business, emerging technologies, and sustainability.
Anino has mentored entrepreneurs and women leaders from the University of Cambridge's EnterpriseWOMEN program and the Chartered Management Institute. She is a trustee and board member of ABPWomen, a not-for-profit set up to provide employment training and job opportunities for youth from disadvantaged communities.
Dr. Emuwa received her Doctorate in Business Administration from Nottingham Business School. She holds an MBA from Cranfield School of Management and a BSc in Economics from the London School of Economics and is carrying out research on Women's Leadership at the University of Cambridge. She is a Fellow of the Chartered Institute of Directors U.K. and a member of the Institute of Directors, London; The Global Citizen Forum's Ambassador for Women and Global Citizenship, Anino has lived in six countries and is bilingual in English and French.
About Avandis
Avandis provides consulting services to leaders and entrepreneurs and hosts two flagship communities of women in leadership: 100 Women@Davos and Africa Women CEOS Network. 100 Women@Davos is a global community of impact-driven women leaders, originally started in 2019 and launched in Davos in January 2020, whilst African Women CEOs Network is a pan African community of over 500 women CEOS, founders. Entrepreneurs and heads of organisations.
These communities amplify the voices of women leaders particularly in business, entrepreneurship, emerging technology and sustainability. Our initiatives are targeted at supporting women for leadership at the highest level to participate in shaping global policies and the international agenda, facilitating access to business opportunities, whilst belonging to a supportive network of like- minded peers.
We empower our community by enabling and encouraging collaborations, showcasing our trailblazing women, and creating opportunities for advancement. Through our thought leadership sessions, business events, and programmes, thousands of women leaders have been positively impacted.
Avandis is a UN Women's Generation Equality Action Coalition Commitment Maker which supports the United Nations Sustainable Development Goal (UNSDG) 5 Target 5.5 : "to ensure women's full and effective participation and equal opportunities for leadership"