BIRAME SOCK
2010 fellow, Founder & CEO at Kwely Inc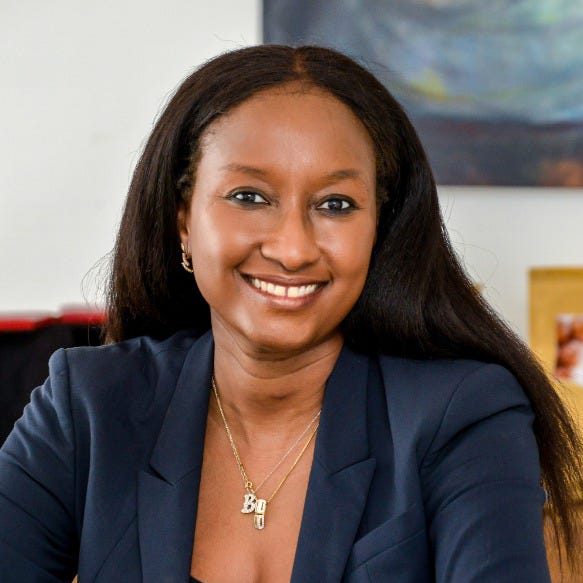 Francophone Sub-Saharan Africa
Birame Sock
Birame is a tech visionary with over 20 years of experience as a technologist, entrepreneur, and high-level executive with a key focus on digital media, e-commerce, data analytics, and technology platforms. She also invests in and provides strategic support to startups in the US and Africa.
Birame Sock is the current Founder and CEO of Kwely, her latest venture which is a newly developed B2B wholesale sourcing marketplace for products made in Africa. She is also the Co-Founder Haske Ventures, a venture building and fund focused on the development and support of high-impact startups based in Francophone Africa.
Before merging with Haske Ventures, Birame was the Founder and Managing Partner of Founder 5 Inc., a startup management group focused on developing and advising ventures with entrepreneurs in the US and Africa in various areas from e-commerce, to media, consumer marketing, EdTech, and Fintech among others.
Birame is a tech visionary with over 20 years of experience as a technologist, entrepreneur, and high-level executive with a key focus on digital media. Originally from Senegal, she came up with the groundbreaking idea for the first-ever music recognition solution launched in the United States and Canada, a mobile service that would later be known as Shazam worldwide. Her second startup, Third Solutions was the first US-based Digital receipt platform, MyReceipts which was launched at Whole Foods & Shoprite amongst other retailers and was later acquired after raising a major round of funding.
She has served on multiple Boards including as an Independent Board Member of a public company (NASDAQ) which was valued at over $1B market cap. In this role, Birame had the opportunity to be intimately involved in the development of a digital media strategy for major entertainment brands such as American Idol, Elvis Presley, and Muhammad Ali.
She was the winner of the 2010 Cartier Women's Initiative Award for North America and served as a member of the North America Jury from 2018 to 2020. Birame currently serves as Chair of the International School of Dakar Board of Trustees and Board member and primary lead in the development and launch of the first National E-Commerce platform in Senegal, an initiative sponsored by the Senegalese Ministry of Commerce. She is also a consultant for the International Trade Center (ITC), a division of the United Nations allowing her to coach entrepreneurs around Africa including Gambia, Cote d'Ivoire, Benin, and Mali. Birame pursued a Bachelor of Science with a double major in Broadcasting and Computer Science from the University of Miami from 1993 to 1997. Her primary passion alongside family, good music, and good food is indeed entrepreneurship.
About Kwely
Birame N. Sock, a tech entrepreneur who successfully exited two startups in the US, founded Kwely under the premise that Made In Africa products have a place on the global market and can help boost African exports as well as Africa's industrial sector. Based in Senegal, the company focuses on the development of existing and new Made-in-Africa brands with local suppliers in order to get to export-ready status, a proprietary platform to support B2B wholesale transactions on the global market and a packaging studio to provide the services needed to deliver products that meet international standards.
Kwely is a game-changing innovative platform and the first of its kind global B2B wholesale marketplace for Africa. For the first time ever, buyers around the world have access to quality and unique products made in Africa that meet international standards and provide for customization and white-label solutions based on their needs.
Kwely's goal is to be the leading African B2B e-commerce platform that redefines the perception of African products and the way African buyers and sellers transact with each other and the rest of the world. This is achieved through the introduction of an online inventory and ordering management platform for buyers and sellers looking for a reliable and trustworthy tool to buy or sell products at competitive prices, increase sales through high volume orders and meet quality and compliance requirements.